DAT/TG COLLET CHUCK
Product Introduction
| | | | |
| --- | --- | --- | --- |
| d1 TEST BAR DIAMETER MIN. MAX. | L | CONCENTRICITY | |
| 3 | 6 | 16 | 0.01 |
| 6 | 10 | 25 | 0.01 |
| 10 | 18 | 40 | 0.01 |
| 18 | 24 | 50 | 0.01 |
| 24 | 32 | 60 | 0.01 |
Every collet shipped out of the factory has been passed inspection.
Standard testing table is in accordance with the cutting length and precise requirements of various sizes of end mills.
Collet taper is 4.1751°, good concentricity and clamping capacity.
Suitable for heavy-duty cutting.
Particular square thread design enables good clamping capacity.
The price includes a nut, but without any spanner and collets.
While ordering, other Power Good Nuts could be purchased separately for combination.
The pre-balance can reach G6.3 10,000 rpm, without an inspection report.
The balancing grade and revolution can be done according to customer's request but the additional charge is needed.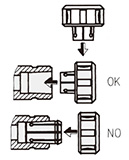 | MODEL NO. | TYPE - l1 | L | d1 | t1 | T | SIZE RANGE | WEIGHT (KGS) |
| --- | --- | --- | --- | --- | --- | --- | --- |
| SYIC - 42101 | DAT30 x TG75 - 70 | 117.8 | 50 | M16 x 2.0P | TW 1-1/2" - 12 | 3.0 ~ 16 | 1.1 |
| SYIC - 42107 | DAT30 x TG100 - 80 | 127.8 | 60 | M12 x 1.75P | TW 1-7/8" - 12 | 3.0 ~ 25 | 1.2 |
| SYIC - 42120 | DAT40 x TG100 - 80 | 148.4 | 60 | M16 x 2.0P | TW 1-7/8" - 12 | 3.0 ~ 25 | 1.2 |
| SYIC - 42123 | DAT40 x TG100 - 100 | 168.4 | 60 | M16 x 2.0P | TW 1-7/8" - 12 | 3.0 ~ 25 | 1.3 |
| SYIC - 42126 | DAT40 x TG100 - 120 | 188.4 | 60 | M16 x 2.0P | TW 1-7/8" - 12 | 3.0 ~ 25 | 2.4 |
| SYIC - 42129 | DAT40 x TG150 - 105 | 173.4 | 82 | M24 x 2.0P | TW 2-5/8" - 12 | 4.0 ~ 38 | 2.7 |
| SYIC - 42132 | DAT40 x TG150 - 120 | 188.4 | 82 | M24 x 2.0P | TW 2-5/8" - 12 | 4.0 ~ 38 | 2.9 |
| SYIC - 42135 | DAT40 x TG150 - 135 | 203.4 | 82 | M24 x 2.0P | TW 2-5/8" - 12 | 4.0 ~ 38 | 3.2 |
| SYIC - 42158 | DAT50 x TG100 - 70 | 171.75 | 60 | M24 x 2.0P | TW 1-7/8" - 12 | 3.0 ~ 25 | 3.4 |
| SYIC - 42161 | DAT50 x TG100 - 100 | 201.75 | 60 | M24 x 2.0P | TW 1-7/8" - 12 | 3.0 ~ 25 | 4.4 |
| SYIC - 42164 | DAT50 x TG100 - 120 | 221.75 | 60 | M24 x 2.0P | TW 1-7/8" - 12 | 3.0 ~ 25 | 5.1 |
| SYIC - 42167 | DAT50 x TG150 - 100 | 201.75 | 82 | M24 x 2.0P | TW 2-5/8" - 12 | 4.0 ~ 38 | 5.7 |
| SYIC - 42170 | DAT50 x TG150 - 120 | 221.75 | 82 | M24 x 2.0P | TW 2-5/8" - 12 | 4.0 ~ 38 | 6.1 |
| SYIC - 42173 | DAT50 x TG150 - 150 | 251.75 | 82 | M24 x 2.0P | TW 2-5/8" - 12 | 4.0 ~ 38 | 6.5 |